The founder of Sad Girls Club on healing and helping others feel seen through community.
Elyse Fox is a storyteller and filmmaker who has utilized her art to galvanize a robust community around the importance of mental health, particularly for women of color. Her organization, Sad Girls Club, was launched in 2017 and today has impacted over 200,000 people across 5 continents and in 40 countries. 
What started as an introspective deep dive into her own depression in the form a documentary, blossomed into a global movement with Fox at its helm, leading the work to erase stigma from mental health conversations, provide access to therapy and treatment for girls and creating in-person safe spaces for young women to know they are not alone.
Fox created the space she needed and could not find, at a point in her life when her health hung in the balance. It turned out that scores of people felt the same way and have found solace and resources in Sad Girls Club. Fox's work is underscored by the fact that the wellness and mental health space has been predominantly made for and marketed to wealthy, white women. With Sad Girls Club, access and conversation around therapy and emotional health are inclusive of people of color and the LGBTQIA community. 
Last fall, the organization launched an initiative called Remedy, issuing grants for free talk therapy to members of their community that are unable to afford it but in need of support. The grants cover one year of therapy with two sessions per month.  They received nearly 1000 applications in less than a month, yet have continued to create grant giving programs and extend much needed resources.
Between formal grants, shared conversations during Sad Girl Club's IRL events or even in the comment threads left on the organization's 250k+ strong instagram account, hundreds of thousands of women are feeling seen and served through Fox's work.
Here, the activist and filmmaker talks delves into the impetus for starting Sad Girls Club and how she supports both herself and her community every day.
D
You have such an inspiring and robust career journey. Please tell us what led you to create Sad Girls Club.
EF
After battling depression I decided to speak up and speak out about my experiences through a film called Conversations with Friends. After I released the film there were a lot of young women who saw themselves in my story and wanted to be more open within their mental health journey which led me to create Sad Girls Club.
D
What has been the biggest challenge in creating Sad Girls Club? What has been the biggest win?
EF
Getting people to care about mental health beyond an Instagram post was my initial challenge. As a nonprofit, we thrive and exist through donations and as a first time business owner, that was difficult to navigate. My biggest win would be launching our 1:1 therapy scholarship grant called Remedy and also being recognized by Beyoncé, being included in one of Drake's music videos as well as sponsorship from artists I really really adore like Shay Mitchell, Selena Gomez and Chloe and Halle.
D
What is the best advice you have ever received as a mom?
EF
Build out your tribe and really think about how you want and need to be supported.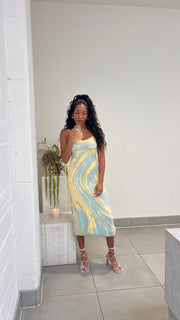 "You can either complain that something doesn't exist or create a new space and welcome your tribe, that's why Sad Girls Club is here today."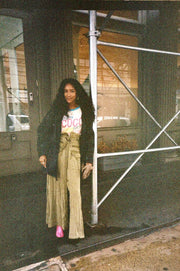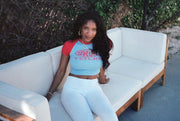 D
What can everyone be doing to ensure the conversation around making mom's work more visible and valued is amplified?
EF
Support your local working mom, you never know how far a recommendation or acknowledgment of their work can take them.
D
Your 3 morning must-haves? What helps you start your day and feel your best?
EF
1. Matcha
2. Fresh water
3. 5 minutes of peace before starting the day
D
What is your Work Around? Your strategy or plan for when you get hit with a "no" or roadblock?
EF
I'm of the mindset that 'everything happens for a reason.' I'm not too attached to an idea or concept, understanding that the world, trends and consumers desires are ever-changing. I try my best not to stress over what I can't control.