The founder of Girls Who Code and Moms First on fighting for women's economic equality and normalizing parenting in the workplace and beyond.
In 2016, activist and entrepreneur Reshma Saujani took to the stage for her Ted Talk and dropped one of the most striking (and subsequently viral) phrases that ripples throughout conversation about women's empowerment still today.
"Brave, not perfect" was the phrase and concept at the heart of Saujani's address and has informed her work, whether launching a new start up, pitching a story idea or unpacking failure. As the creator of Girls Who Code, Moms First and author of Pay Up: The Future of Women and Work (and Why it's Different Than You Think), she has inspired a generation of women and those they may be raising, to eschew stale cultural messaging around women's equality, while also shedding light on the stark realities and responsibilities government, workplaces and the system in have in making moms, caregivers and women in general, feel more seen and supported.
Through her organization, Moms First, which Duster is proud to be in partnership with, Saujani and her team address areas that continue to widen the economic equality gap of moms and caregivers lives. From the paid leave to making invisible labor visible and valued, Saujani and Moms First are making good on a goal of creating a world where women don't have to choose between their kids and their career.
Here, Saujani shares insight on the inspiration for launching her various endeavors and the three things that she can count on to start the day in the right direction.
"We have got to stop trying to fix the woman, and fix the system."
D
You have such an inspiring and robust career journey. Please tell us what led you to create Moms First.
RS
I've always been an activist, and when I reflect on it the throughline of my career has been creating economic opportunities for women. That's what I'm passionate about. I founded Moms First because gender equality in this country is moving backwards, and the reason for that is that whether it's our workplaces or our government, we have never designed them for moms. 
We're the only industrialized nation without paid leave, we invest less in child care than anywhere else, and moms are making 58 cents for every dollar dads make, while doing ⅔ of the unpaid labor at home. We are pushing moms out of the workforce and, in far too many cases, into poverty. And at the same time, our entire playbook for women's leadership and DE&I has been gaslighting women. We're still telling women to get mentors and beat their imposter syndrome, when the problems are structural. We have got to stop trying to fix the woman, and fix the system. 
D
What has been the biggest challenge in creating Moms First? What has been the biggest win?
RS
I feel like we are getting wins all the time, whether it's passing a bill in New York City to create a Marshall Plan for Moms task force, getting a company to expand child care benefits for their employees, or hitting a fundraising KPI so we can scale. The challenge is allowing myself to actually celebrate the wins when the scope of the problem feels so big, and there are still so many moms who need relief. I am always thinking about the next thing. It's a habit I'm trying to break though because we can't afford to burn out – this is a long game.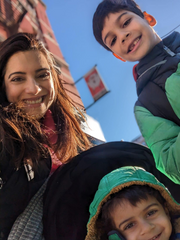 "Without basic structural support, "having it all" is just a euphemism for doing it all."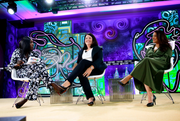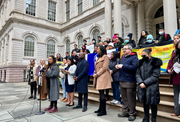 D
What do you feel is the biggest myth out there surrounding women and work?
RS
The biggest myth hands down is the idea of "having it all." On the face of it, of course it sounds amazing. But it's a lie. Because the reality is that in our society, without basic structural support, "having it all" is just a euphemism for doing it all. Even when women are breadwinners in their families, they're still doing an outsize share of the unpaid caregiving and household work at home. And so we're constantly exhausted, constantly feeling like failures, and even though we're working all the time, we're actually getting paid less than men with kids because of the Motherhood Penalty. It's a total trap. I dream of a society where women don't have to choose between their careers and their kids, but a tagline isn't going to get us there.
D
What is the best advice you have ever received as a mom?
RS
That when it comes to my report card as a mom, the way I judge myself will look very different than how my kids judge me. They're not going to remember whether the bake sale cookies were store bought, but they will remember the moments when I showed up for them emotionally. It's helped me let go of an Instagram version of perfection and focus on what matters.
D
What can everyone be doing to ensure the conversation around paid leave and making invisible labor more visible, gets louder and leads to lasting change?
RS
This is so important because it was only really during the pandemic that the rest of the world woke up to what moms have been living through for a long time. And the reason for that is that people had to actually see it, literally through the Zoom screen. They saw us doing laundry in between meetings, or balancing toddlers on our laps. It became impossible to hide our motherhood. Our employers realized we literally cannot work without child care. Even the government finally started to talk about child care as the economic issue that it is. Now we need to continue leading with our motherhood and being honest about the fact that kids have doctors appointments and soccer games. It sounds crazy to have to say, but we've got to normalize parenting.
D
Your 3 morning must-haves? What helps you start your day and feel your best?
RS
Walking Stan: My best friend is my dog Stanley, and we need our dog and dog mom time. So in the mornings we go for a walk and get a coffee before the kids wake up. It always sets my day right. 
Newsletters: I am addicted to news but I don't have time for full articles in the morning, so I think I subscribe to every single newsletter and save the longer stuff for weekends. 
Family Time: My husband isn't a morning person, so our deal has always been that I'm on mornings and he's on bedtime.
D
What is your Work Around? Your strategy or plan for when you get hit with a "no" or roadblock?
RS
I celebrate failure and rejection. If I stopped when people told me "no" I never would have done anything with my life. I applied to Yale Law School 3 times before I got in. I ran for office twice and lost before I found what I was meant to be doing. Whether I'm trying to raise money or pitch an op-ed I wrote, quite frankly I just keep going. Persistence is everything.